Bronzed skin and glowing tattoos freshly done with Believa Tattoo Tattoo Sunscreen, the #1 selling tattoo sunscreen online. Recommended by professionals who consider it one of the best creams to protect tattoos from the sunhas an ultra-rich texture that leaves no streaks and protects tattoos from sunburn, rashes, fading and premature aging.
But why is it so special? And is it really as effective as everyone says? To find out, I put it to the test: if you want to know more, just keep reading!
Believa Tattoo Sunscreen for Tattooing – Features, Benefits and Formula
Believa Tattoo Cream Sun Protect is one of them. sunscreen for tattoos with SPF 50+, specific to keep the tattoo shiny, defined and lively even under the sun's rays. Protects skin and tattoo from the sun, preventing sunburn, erythema, flaking and blemishes with full coverage of UVA and UVB rays.
Noted For all skin typesis a sunscreen particularly recommended in the case of sensitive tattooed skin because it is very moisturizing and with a high protection factor. The formula is characterized by a including broad-spectrum filter systems UVA and UVB that provide maximum protection against up to 95% of the sun's most harmful rays.
Contains hydrating, emollient, soothing and nourishing vegan ingredients for soft, constantly hydrated skin.
Multiple benefits for skin and tattoos:
Protects skin and tattoo from UVA and UVB rays
It repairs 95% of the most harmful solar radiation
It is specific to sensitive and very fair skin
Prevents tattoo fading and aging
Keeps tattoo colors and lines vivid and bright
The tan is uniform and natural
Water resistant, it is very light on the skin and does not leave traces on the tattoo
Below is the full INCI:
AQUA – C12-15 ALKYL BENZOATE- BUTYL METHOXYDIBENZOYLMETHANE- ETHYLHEXYL STEARATE – ETHYLHEXYL SALICYLATE – OCTOCRYLENE – GLYCERIN- POTASSIUM CETYL PHOSPHATE – TITANIUM DIOXIDE (NANO)- CETEARYL ALCOHOL- PHENYLBENZIMIDAZOLE SULFONIC ACID- GLYCERYL-TRIBYL STEARAZINE (TIPHENYL NEXAZINE )- AMINOMETHYLPROPANOL- DIMETHICONE – PHENOXYETHANOL- BIS-ETHYLHEXYLOXYPHENOL METHOXYPHENYL TRIAZINE – PANTHENOL – ACRYLATES/C10-30 ALKYL ACRYLATE CROSSPOLYMER- ALUMINA- SIMETHICONE CAPRYLYL GLYCOL- DECYL GLUCOSIDE – PIROCTONE OLAMINE – DIETHYLHEXYL SODIUM SULFOSUCCINATE- PROPYLENE GLYCOL- BUTYLENE GLYCOL- DISODIUM PHOSPHATE SILVER CHLORIDE – XANTHAN GUM
Each pack contains 100ml of product and has a PAO of 12 months from opening.
Review Believa Tattoo Sun Protect tattoos sunscreen
A small tattoo has been shining on my wrist for a few months. It represents a particular period of my life and is the verse of a song to which I am particularly attached. I am very attached to him and it is for this reason that there are many treatments that I dedicate to him every day.
The last thing I want is to spoil it with the sun. On the occasion of several days at the lake and a big concert where I was under the scorching sun for several hours, I tested the Believa Tattoo sunscreen: did it work?
Believa Tattoo Sun Cream for Tattoos – SPF 50+
15.90€
in stock
to June 17, 2022 10:53 a.m.

To find out, keep reading.
Packaging, texture and fragrance
The packaging is the classic of sun creams: outer cardboard box, the main tube is made of flexible plastic and fitted with a snap cap. Easy to use, it distributes the cream well and leaves little residue on the edges.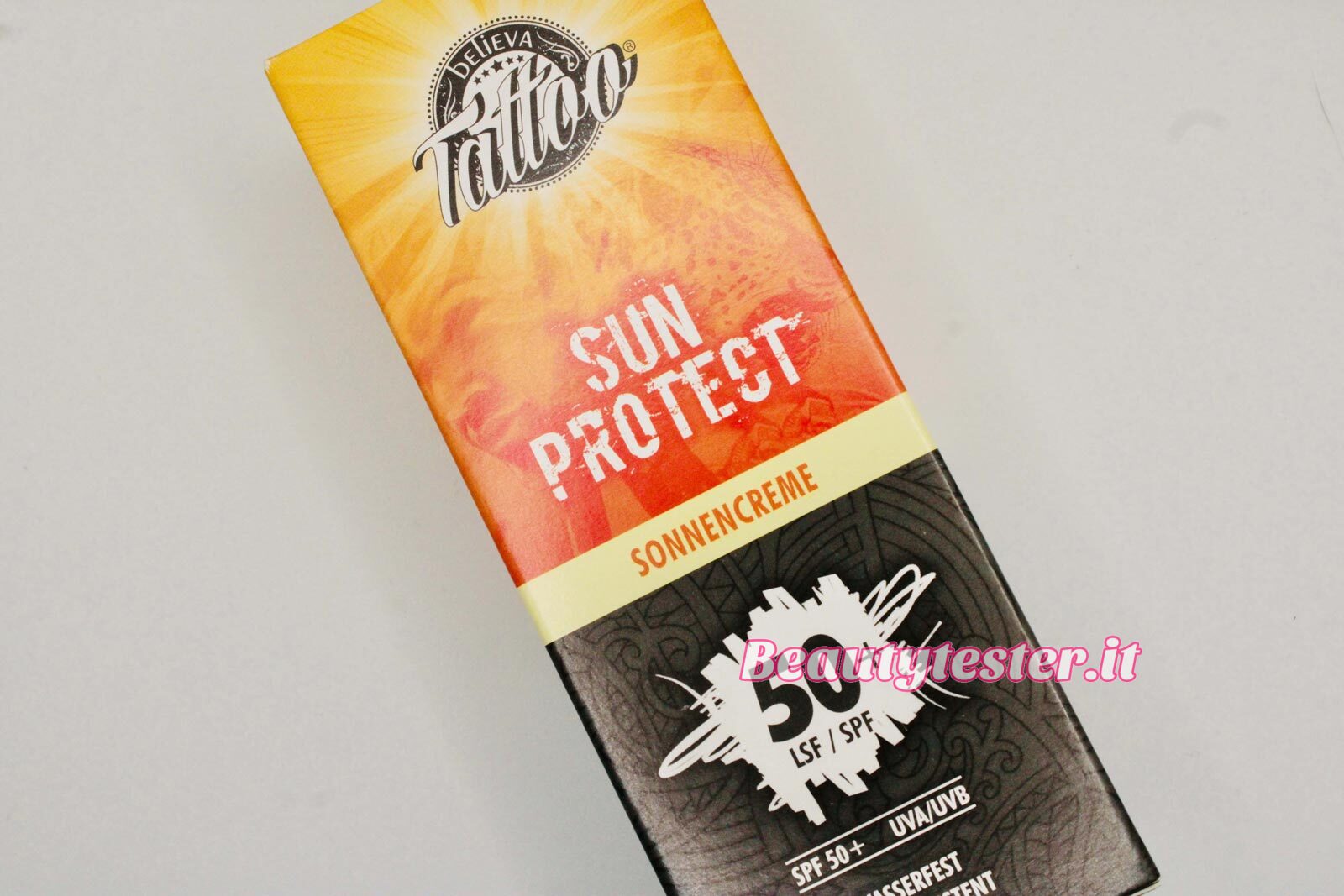 Believa Tattoo Crema Sun Protect feels like a cream with a rich texture that is soft and comfortable on the skin. It is odorless and easily applied to the skin, absorbing in minutes without leaving a whitish film. On the skin, it is light and resists water well.
The only flaw is the information on the packaging which is scarce even if it is in several languages.
Use, effectiveness and results
For maximum protection, it should be applied at least 20 minutes before sun exposure. It can be used all over the body and should be generously distributed over the tattooed areas, taking care to massage it in until completely absorbed. It should be reapplied frequently between exposures.
It does not stain, grease, leave halos or create white patinas. Believa Tattoo Cream is a lot simple to use How many effective in protecting tattooed skin by the rays of the sun. At the beach it is perfect for the first exposure to the sun, easy to use and very light on the skin. It applies without difficulty and the absorption is faster than other creams.
I have to try it on two skin types. Delicate and sensitive, thick and natural. Two different types of tattoos (small but with different subject matter) responded very well to application with great results across the board.
Believa Cream works well in any context and for any need. After use, the skin is soothed, very hydrated and shows no redness or flaking in the days following exposure. The tattoo remains intact: the colors are intense, the finish radiant and the lines defined as always.
This happened both during the days at the lake and after the concert: on returning home, the skin was tanned but not red or burnt. The tattoo ? In perfect condition !
Believa Tattoo Sun Protect tattoo sunscreen: success or failure?
Simple to use, light on the skin but extraordinarily effective.
Believa Tattoo Cream Sun Protect is the solution you are looking for if you want to protect your tattoo from the sun's rays and keep it shiny and defined even after days in the sun. The rich texture is soft and comfortable, absorbs in minutes and leaves no patina or streaks on the skin.
Completely odorless, it effectively protects against UVA and UVB rays, leaving the skin hydrated and soothed, protected from sunburn and rashes. And the tan? It will amaze you: it is homogeneous, natural and golden. All without compromise.
Do I recommend it? Yes if you want to protect your tattoos from the sun's rays without giving up the tan.
If you liked the review, would you like to tell me yours or would you like to ask me some questions, I am waiting for you in the comments to talk about it together. See you next time!
Believa Tattoo Sun Cream for Tattoos – SPF 50+
15.90€
in stock
to June 17, 2022 10:53 a.m.

---
You might also be interested in:
Classification / Advantages and disadvantages
9.5 / 10
Advantages and disadvantages
PRO
UVA/UVB protection
Effective against 95% of the most harmful solar radiation
High protection factor for sensitive skin and tattoos
Color retention and tattoo definition
Anti-discoloration action of the tattoo
Homogeneous and natural tan
Anti-halo and anti-stain
Raincoat
Ultra rich light texture on the skin
Without perfume
Protection against sunburn, erythema and burns
Versus: None
Believa Tattoo Sun Cream for Tattoos
Sunscreen with high quality components specially developed for the needs of tattooed skin. Effective broadband filter provides instant sun protection for tattooed skin. This sunscreen prevents discoloration and premature aging of the tattoo. If you don't use adequate sunscreen, tattoos will age and fade faster.
Product Currency:
USD
Product price:
15.90
Product in stock:
In stock